BCL Spa | Moisture Mask - Milk + Honey with White Chocolate 64 fl oz (1,892 ml) CODE: 63104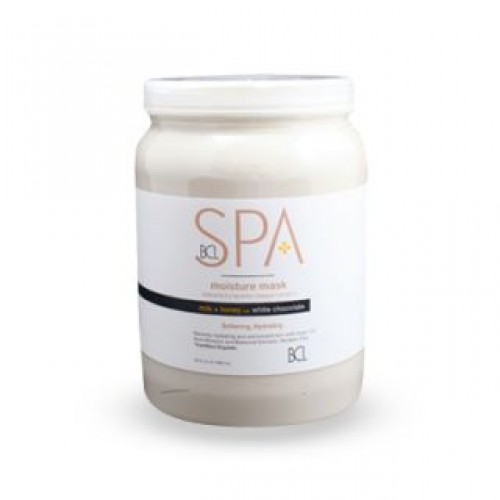 MOISTURE MASK - MILK + HONEY w/WHITE CHOCOLATE

Finally, one simple solution to meet the spa professional's every service need. Spa Organics is the first all-in-one spa treatment for the hands, feet and body with certified organic ingredients including Argan Oil from Morocco. Relieve tension and clear acne-prone skin with the purifying Lemongrass + Green Tea system. Promote youthful-looking skin with the anti-aging system of Mandarin + Mango. Both Multi-Use systems deliver a naturally delectable experience. Luxury for her. Simplicity for you.
For centuries, the perfect blend of Honey and Milk has been used as a humectant—a substance that promotes moisture retention—for nutrient-rich benefits that keep the skin looking young, radiant, and smooth. Legend has it that Queen Cleopatra indulged in daily milk and honey baths to captivate empires with her magnificent beauty. Today, we worry about free radicals and pollutants in our environment, so we have added antioxidant-rich White Chocolate to perfect the perfect blend. Soften and hydrate your skin with BCL SPA Milk + Honey with White Chocolate.
(Step 3)
Moisture Mask
Milk + Honey with White Chocolate
Softening & Hydrating

Introduction:
This hydrating moisture mask deeply nourishes the skin as it smooths and conditions the hands, feet, and body. The world's most precious certified organic ingredients such as essential oils and herbal extracts are blended with the rare and exotic Argan Oil* from Morocco to create a purely organic experience in the spa or at home. Live energized with the healthy and eco-friendly organic lifestyle.

Directions:
Generously apply and cover with a warm towel. Let sit for 15 minutes, rinse thoroughly and pat dry.

Benefits:
1. Purifies the skin of dirt, excess oil, and other impurities while also restoring moisture to the skin.
2. Detoxifies the skin, removing unhealthy toxins.
3. Restores the whole body by bringing balance.
4. Softens the skin with gentle exfoliation.
5. Hydrates the skin, restoring moisture balance.
6. Boosts the skin's immunity against free radicals and environmental damage.
Certified Organic. 64 fl oz (1,892ml)